Visit to the Municipality of Adigeni and overview of the progress of the project Sustainable Forest Managment in Adigeni Municipality, Georgia
During her visit to Georgia, Acting Director Mojca Kopše together with representatives of the Georgian National Forestry Agency and Project Operators, Zavita d.o.o. Ljubljan and Stritih svetovanje za trajnostni razvoj, d.o.o. Bovec, first met with the governor of the Samtskhe-Javakheti region, Besik Amiranashvili. At the meeting, cooperation on the project Sustainable Forest Managment in Adigeni Municipality, which is co-financed by the Republic of Slovenia and the Republic of Germany, was presented. The governor and the director of the Georgian National Agency for Forests, Archil Nikoleishvili, expressed satisfaction with the implementation of the project, which will contribute to the better use of forests in the municipality of Adigeni and the preservation of nature, and stated the wish to continue cooperation with Slovenian forestry experts.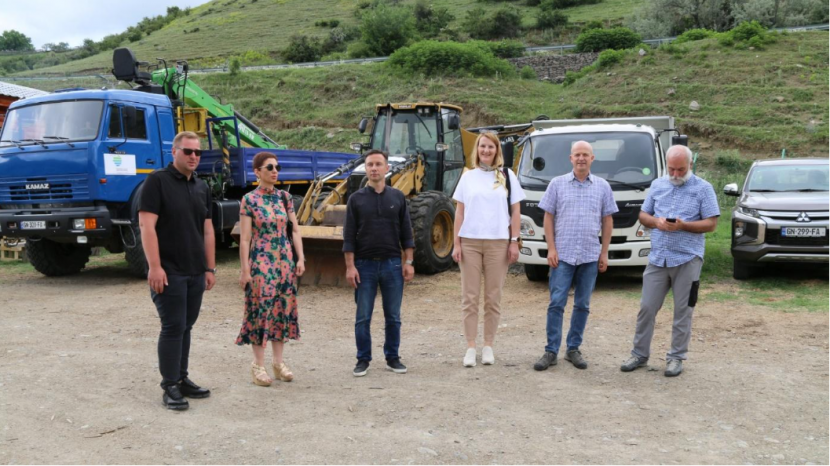 This was followed by a tour of the purchased forestry equipment in the wood warehouse in the municipality of Adigeni and a demonstration of the operation of the equipment.
The next day, in the village of Tsikhisubani, she met with locals who are involved in the 10-year landscape management agreements and learned about the activities they carry out as part of the project.
The main economic activities in the municipality of Adigeni are animal husbandry and forestry. Pastures are in uncontrolled common use, which leads to surface degradation. Due to poorly planned and illegal logging and the resulting soil erosion in forest areas, environmental and economic damage is caused. The lack of employment opportunities and the poor productivity of agriculture are causing the emigration of young generations. The implementation of the project will ensure the preservation of biodiversity, adaptation of forests to climate change and more efficient use of forests for the needs of the population and food production.
Back