Ceremonial opening of the project Reconstruction and upgrade of the Alagovac drinking water treatment plant in the Municipality of Nevesinje, Bosnia and Herzegovina
The opening ceremony of the renovated plant took place as part of the celebration of the baptismal glory of Nevesinje. The event was attended by the Mayor of Nevesinje Milenko Avdalović, Prime Minister of the Republic of Srpska Radovan Višković, Ambassador of the Republic of Slovenia to Bosnia and Herzegovina Damijan Sedar, Advisor to the President of Serbia Aleksandar Vučić Milorad Veljović and Chairman of the Board of Esotech Marko Škoberne.
The Republic of Slovenia co-financed the project, which ensured a sufficient amount of drinking water of adequate quality. The project will have a positive impact on the health of the residents and increase the development possibilities of the municipality.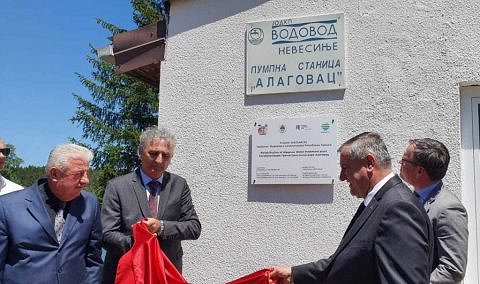 Media:
www.srpskacafe.com/2022/06/viskovic-nevesinje-ce-biti-pozeljna-destinacija-za-zivot/
www.topportal.info/otvoren-procistac-vode-na-jezeru-alagovac-viskovic-nevesinje-ce-biti-pozeljna-destinacija-za-zivot/
www.banjaluka.net/viskovic-u-nevesinju-otvorio-fabriku-za-preradu-vode/
www.youtube.com/watch?v=fwqQdo6hn4M
www.vecernjenovosti.ba/58147/vijesti/radovan-viskovic-fabrika-vode-nevesinje-najnovije-vijesti/

Back